World Autism Awareness Day is observed around the world on April 2, 2019. Autism, or autism spectrum disorder (ASD), refers to a broad range of conditions characterized by challenges with social skills, repetitive behaviors, speech and nonverbal communication.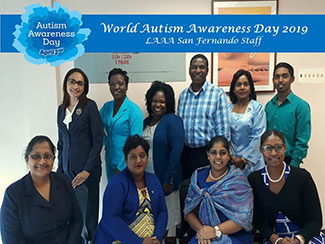 While anecdotal evidence suggests an increasing incidence in Trinidad and Tobago, autism affects an estimated 1 in 59 children in the US.
This year's theme focused on providing Assistive Technologies to persons with autism to help remove barriers to their full social, economic and political participation in society, and in promoting equality, equity and inclusion.
Legal Aid staff in Head Office and the Chaguanas and San Fernando District Offices sported the trademark light blue colours of the Autism support logo to demonstrate their support for our differently abled citizens.